The cryptocurrency market has been on the rise in recent months and is quite popular with investors. However, at what point does it become too expensive to buy? There are many factors that go into determining when a coin will be overvalued or undervalued, but these three may help you make an educated decision.
Luna is a cryptocurrency that has been released in February 2018. It's price is currently under five dollars, but it's worth buying?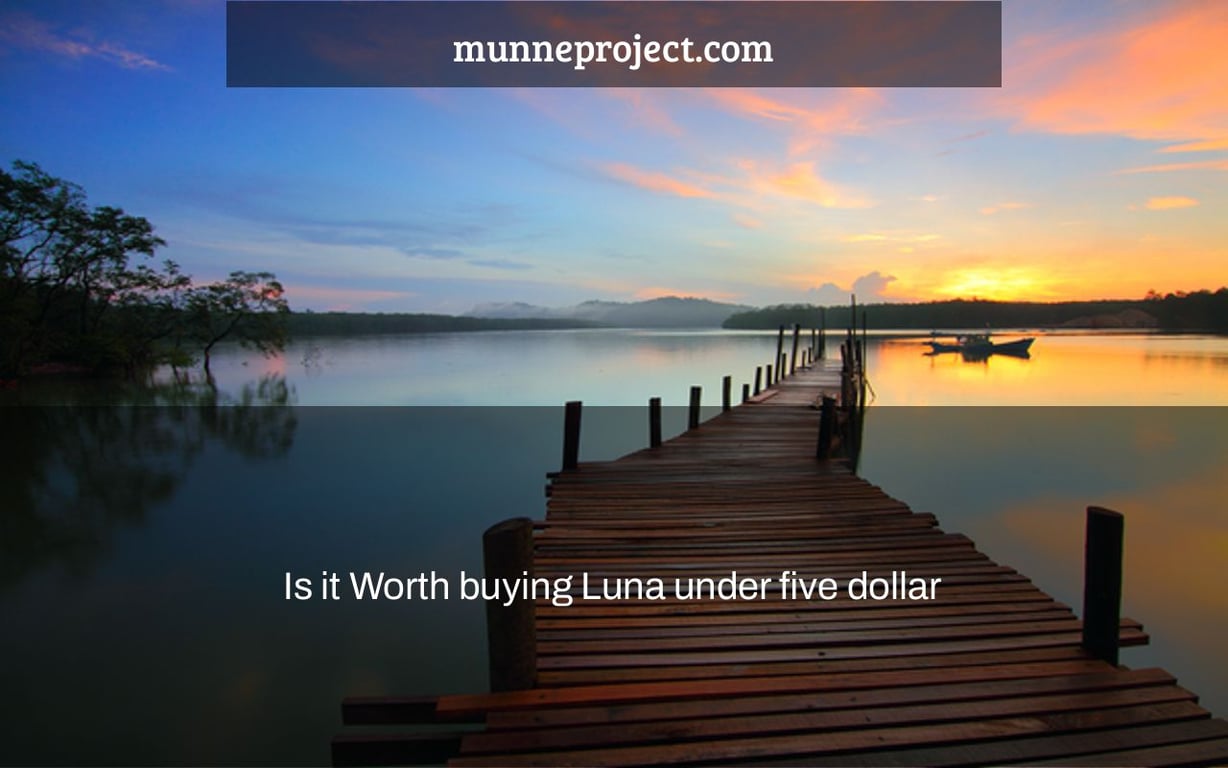 The cryptocurrency industry has witnessed numerous sharp declines in prior cycles, but what is occurring currently with the Luna ecosystem is unprecedented. What was once a top ten cryptocurrency with a market worth of over $40 billion has suddenly dropped to $590 million, with the token (LUNA) price trading around $1.
More than 97 percent of the value of the Luna environment has been wiped off. Everything occurred in a span of weeks. UST divergence is the main source of this dilemma. Due to the algorithmic nature of Terra stablecoin, investors lost faith in its stability after it failed to repeg many times, resulting in a death spiral.
The loss of UST's peg was reflected in Anchor protocol deposits. Many investors put money into Anchor in the hopes of earning a risk-free 19.5 percent annual return. The circulating quantity of UST increased from $2 billion to $18.5 billion in a year. However, after recent events, investors rushed to withdraw their funds, causing the entire deposit value to plummet from $14 billion to $4.6 billion in three days.
Dashboard
To reestablish the peg, the Luna Foundation Guard agreed to provide OTC trading businesses $1.5 billion in equal quantities of BTC and UST. They predicted that traders would invest money on both market sides, stabilizing the UST value. You can see their reserve wallet transactions here.
The price of UST dropped in lockstep with the price of BTC. This is one among the reasons why Do Kwon's decision to include volatile assets like Bitcoin and Avalanche in UST reserves sparked concern. Because the Astroport team's onchain dex is still weeks away from a testnet deployment, the money in reserves cannot be directly tied to the smart contract to automatically inject capital and stabilize UST value.
As a result of UST's de-pegging, investors are taking advantage of Luna and UST's price arbitrage. As we all know, one UST is consumed to produce one Luna. The same is true in the other direction. As a result, traders are purchasing UST for less than a dollar and exchanging it for one dollar Luna. As a consequence, the price difference represents their profit. For example, if I purchase 50 cents of UST and use it to mint Luna, I will get $1 worth of Luna, giving me a profit of 50 cents. The selling pressure on Luna is gradually increasing as a result of this ongoing absorption of UST supplies.
This leads us back to our original question: should you continue to support Luna?
This year, the principles of Luna have shifted, from burning Luna to mint UST to utilizing bitcoin reserves to keep the peg constant. Now, in order for the Luna ecology to recover from this unfortunate incident, UST must first be stabilized.
However, with the present money available, this is not conceivable. As a result, other members of the community, most likely VCs and crypto hedge funds, must enter and bail out Luna. According to Do Kwon, if UST is restored, the underlying processes will alter and become completely collateralized. If all goes according to plan and Luna recovers quickly, purchasing a modest number of tokens now may pay out big in two to three years. You should also keep in mind that prices might drop much more. So only invest if you have the financial means to lose.
Karthikeya Gutta, a crypto writer and freelance contributor for ItsBlockchain, was born and raised in India. With in-depth analysis and research, he covers all facets of the sector. His enthusiasm for blockchain and the crypto ecosystem stems from his belief that it has the potential to transform the world and benefit millions of people.
You've successfully signed up!
Subscribe to get updates on new posts.
The "where to buy luna crypto" is a question that many people have asked. If you are looking for a place to purchase the coin, there are currently only two places where you can buy it: Binance and Kucoin.
Related Tags
should i buy luna now reddit
luna coin price prediction 2030
will luna recover
luna coin price prediction 2025
will luna coin recover